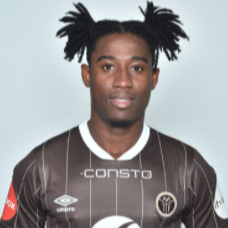 LEAP Co-Founder Freda Katunda, sat down with Ghanaian professional football player Isaac Twum where he shares his story and perspective on the healthcare landscape in Ghana as an athlete who suffered from a sports injury. Isaac now plays football at Norway's top-level as a midfielder for Mjøndalen IF, and like many Africans' in the diaspora, he often thinks about how he can help his community back home.
Your story Isaac is very much in line with what we are trying to combat at LEAP, which is to increase the capacity of healthcare professionals across Africa. So with this interview, I hope you will be able to provide us with a lot of insights on someone who has had experience with the healthcare system in both Ghana and Norway. So the first question I want to ask you, Isaac, is what do you think are the main healthcare problems in Ghana, whether it be child health, tropical diseases, respiratory infections, mental health, etc.?
I am not related to healthcare, but what I can say in general is that a lot of stuff is happening. I had an ankle injury. It's hard when you have injuries, and for players playing in the local league, it's really hard for them to get the necessary support. So for me, when I was playing in Ghana, I mainly depended on African herbs.
I think people like us playing in Ghana feel safer to use that than to go to the hospital and do operations and stuff like that. There is no trust in going to a Ghanaian hospital to do an operation as a footballer. If they say okay, we are taking you outside to do it, then players feel secure, but when they say like okay, we will take you to any hospital in Ghana, people get scared because of the trust. We feel like the facilities and the equipment are not good, so it makes people scared and also with malaria and stuff. It is really, really bad because in some hospitals everything is packed. Imagine that if you are a malaria patient, you need air, space, and everything, but then you go to a hospital, and they put you in one room with ten people, which is not healthy for you as a patient. So I think it's different compared to Norway. The difference is huge.
Patient-centered care is increasingly recognized as a key dimension of quality healthcare, but unfortunately remains poorly implemented in practice and this is especially true in Africa. In Sub-Saharan Africa only 42.4 percent of people are satisfied with the availability of quality health care in the city or area in which they live, this is the lowest level of satisfaction in the world.When Isaac went home for holiday and injured his ankle towards the end of his stay, he traveled to a nearby health facility to get an MRI done, but they did not have the machine so he went to a private health facility in Accra, the capital and received an MRI examination.
So I went there, and I did the MRI, and then the doctor said he didn't see anything on the exams, although I still felt some pain. So what happened next is that while I was recovering and training in Norway, I suffered a different problem, a knee injury, so I had to do an X-ray again. When I went to do the X-ray, the doctors saw that I had previously done a similar exam. So, they told me to send the results to the doctor, and I did. The doctor then told me there was really a big problem there. I was surprised because after having paid for everything, the first doctor in Ghana told me that I was okay, but then this other person in Norway looked at the results and said that there was a big problem.
Isaac's x-ray revealed he had a cut around his injury. This revelation further deteriorated the trust Issac spoke of earlier in the Ghanaian health system. The lack and need for patient-centered care and people-centered health systems are apparent and factors contributing to the lack of implementation of such practices is the training of health workers, which remain dominated by a biomedical perspective and little attention to psychosocial dimensions of the illness experience.

As a football player you are accident-prone because of the physical exertion you have to put on the field each day, with that comes one's fair share of run-ins at the hospital and/or sports clinic. Isaac spent nearly four years in Norway and has seen the differences in the way care is given and shares his best practices that he hopes the Ghanaian health system can adopt.

If there is one thing that you learned from the Norwegian healthcare system that you can magically bring to Ghana and they would adopt it, what would it be?
I think one thing would be the facilities, like the hospitals, especially in terms of space. Rooms only have two patients unless it's an emergency or something. When I was playing for Start Football Club in Norway, I went to this hospital. One of my friends had an injury, and we went to visit him. He was with only another person in the same room. That is good. In Ghana, you have five or ten people in the same room because there is not enough space. Some people even sleep on the floor. Imagine how bad that is for pregnant women, for example. So, one thing I would take to Ghana is more room space. Another thing would be patient care. From my experience in Ghana, they make people feel bad. When you have a sickness and go to a hospital, you expect the nurse or doctor to treat you well and make you feel that everything will be alright. However, many times they are scared to manage their patients because of their sickness. I know sometimes it might be scary, but that's what doctors and nurses decided to do for a living. Doctors and nurses must learn how to manage their patients and make them feel good, not insecure. When you go with a problem, and healthcare workers add another one, that makes you feel more stressed, and treating the sickness becomes more difficult.
Some studies revealed that in several African countries patients who have visited their local health centers perceived low empathy from doctors and unresponsive care that undermines patient trust in health worker values and professionalism. Many healthcare workers' future attitudes towards patients are shaped during their training. Which will result in them being patient-centered or not. In most African countries, training (still) is embedded in a strong hierarchical environment, prioritizing biomedical aspects over cultural, social, and psychological aspects. Medical training remains very doctor-centered, often ignoring the importance of patient preferences, needs, and expectations. Looking at the historical perspective, modern medicine in Africa was at its roots exogenous, imported by the colonial powers, and therefore not an emanation of African society. Colonial medicine in Africa was largely characterized by hospital-centered curative care and vast disease-control programs aiming to control endemic diseases. The concept and practice of general medicine as we know it in Western Europe, however, was not exported. Now in comparison to other continents, Africa today still lags in offering postgraduate training in family medicine that recognizes this type of patient-centered training. LEAP's healthcare education aims to cover all areas of health, healthcare, and overall well-being. Africa's healthcare systems have tremendous opportunities to yield quality care to its communities, and LEAP's mission is to assist in making that change happen by training today and tomorrow's health workforce to improve care outcomes.We are an education company, that is tackling a large issue, and I am a big believer, and I hate it when outside people come in and say, do this change. Change really happens from within and when it comes from the people who believe in that mission. So how do you get people motivated and to be optimistic and to want to go out and receive an education and make the necessary changes so their communities can flourish?
Now that you have the platform and are willing to work for it, getting people who have the same mentality is another thing. That's a big problem because some of them will think that you are coming to be like a boss. People don't always see the positive side. I think they always see things negatively before they realize something is good. You working with universities is beneficial because, contrary to other groups, they might be more open to guide LEAP and help the organization identify latent needs.
Isaac told us that he believes LEAP's continuous contact with prospective students that will help shape the platform and partnerships with local African universities will be their success factor because it is all about gaining the public's trust and making sure that they are involved in whatever it is that you are doing.
When you go out of a place, you start to realize that you have the potential to do this or that. Since I came here, I have learned a lot. I hope one day I will be this big star and be able to help my community. It's a step at a time.
If you are interested in learning a variety of healthcare subjects and want to make a difference in your community, then LEAP is for you. Check out our website

http

s://leap-educate.com

we are continuously updating our course catalog. Don't see a topic you'd like to learn? Let us know, we will work on getting it for you. Be the change!
Get started
Let us introduce our school
Created with